This week's round-up is a bit abbreviated, with only 3 outings of note. The first is the Purcellville Family Restaurant, on the main drag in downtown Purcellville. This place is what the Leesburg Restaurant used to be. It's that local diner where all the regulars show up, with the usual Saturday morning breakfast crowd and a few stragglers from the bike trail. The blueberry pancakes are not to be missed, sporting marble-sized blueberries in plate-covering pancakes. The usual breakfast combinations are there and if you aren't a complete pig, you can get more food than you can stand for about $6.50. Obviously the typical family diner lunch and dinner fare are there as well. Definitely worth the 6 mile drive from Leesburg if you're looking for a good breakfast outing.
As an added bonus, it's right across the street from Nichol's Hardware, which is a must-visit-once-a-month blast from the hardware past. If you've never been, you owe it to yourself to see this bit of Americana.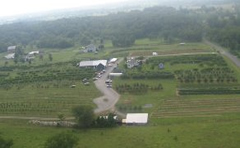 This week's second adventure includes picking black raspberries at the Mackintosh Fruit Farm in Berryville. This nice little family orchard is on the far side of Clarke's Gap and has blackberries, raspberries, blueberries, apples, peaches, and lots and lots of different vegetables according to the season. Their prices are about half of what the more touristy Great Country Farms charges. They have a very nice picnic area, lots of locally grown and baked/cooked/prepared foods, and acres of stuff to pick. This week is probably the last week for raspberries, but the blackberries looked like they'd be ready to pick any day now.
Finally, Red, Hot, and Blue on E. Market St. in Leesburg got a quick lunch visit. As usual, the meat was good. But all things considered, you're better off searching for more authentic barbecue a bit further afield. Good, but only occasionally.